Know how to delete thousands of emails from Yahoo Mail account using manual as well as professional techniques. Delete thousands of emails from Yahoo mail in batch in save user's time and effort.
Are you wondering how to delete thousands of emails from Yahoo? There are chances that you might be facing storage issues in Yahoo, which is quite common to its users. By subscribing to different mailing sites, users generally use all their storage space, and hence it is very important to keep a check on your emails frequently. Did you just open the mails after a long period of time and found that there are approx. thousands of mails available there? It is quite understandable that the first thing that must be popping in your head is that how can I delete these emails at once. If you are one of those who are struggling with such a question, the time has come to relax and get the answers to all your doubts.
There was a time when Yahoo mail was one of the most prominent email services. But nowadays, there are other mails as well, like Gmail, which has taken over it. Despite that, there are still many users who prefer Yahoo mail to avail of some services. But the problem arises when the users link with different websites, they start getting different emails every day. Other than that, due to the 'n' number of spam messages that the users get to fill up the entire storage space. So, if you are planning to delete them one by one, it will take the entire life. To get rid of this problem, you can go through the blog to understand how to delete all the mails in a less period of time.
Manual procedure for deleting thousands of emails from Yahoo
Here is a look at some of the most helpful procedures used to delete all Yahoo mails:
Use Yahoo mail to delete all Yahoo mails
One of the easiest methods to delete entire Yahoo emails at once is to look for them in the incoming folder. Select them all, and click on Delete. Follow the given steps:
Access the Yahoo mail and go to the search option

Click on the drop-down menu which is there near the Filter bar

Select the option of 'Select all' and you will pick all the mails that you received

You will get to options over there. One option would be deleting and the other one would be the archive.

Choose one of them and your yahoo mail will be clean
Clean your inbox
With the help of this method, you will have an option to archive your messages and shift them to the archive folder. Implement the simple steps as given below:
Go to the Yahoo mail page and click on the drop-down menu

After that tap on the 'Clean your inbox' option

You will come across a message popping up, click on Archive emails

It will take a few minutes depending upon the number of emails you have

Finally, go to the archive folder to check those emails
This method is less time taking and you can complete it with some clicks. But these emails are not deleted forever and hence you can still find them in the folder.
Go for email clients
In case a user doesn't find it good to delete mails with the help of Yahoo mail or Thunderbird, you can try the given method by executing the steps below:
You need to add Yahoo to the email client and let them sync

After that, select all the emails and archive or delete them, whatever you want to do
How to operate a mail client on Windows 10?
If you are done with syncing your Yahoo mail with the mail client on Windows 10, it's time to click on the Checkbox button

After that, hit on the 'Inbox' option and select all the emails from the folder

Click on 'Delete' or 'Archive'
How to operate Mailbox in MacOS
After arranging the Yahoo mail in the mailbox, you will have to choose the inbox folder

You will be finding the Edit option in the menu bar. Click on that and then go for 'Select all'

Again, you will come across two options, which are whether you need to archive your emails or delete them
These are some of the most casual tips and tricks that users can implement for free. There are different tools that come with the ability to delete a bulk of messages at once and you can simply use these tools to delete Yahoo emails without any hassles.
In this blog, we learned how can we delete thousands of Yahoo emails at once. If you are struggling with the same issue, you can go for any of the methods given above. In case you find it difficult to delete emails entirely or depending upon certain requirements, you can go for the automated approach. For that, you need to install Email Eraser Software, which makes it easier for you to delete bulk messages at once from Yahoo mail.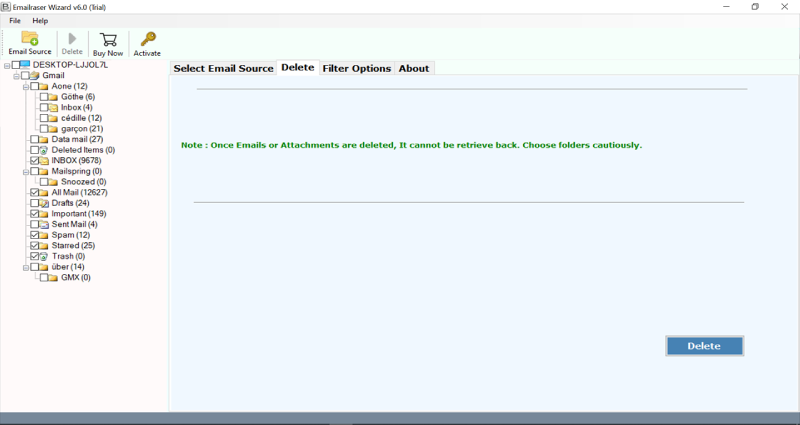 Steps to delete thousands of emails from Yahoo Mail
Download Yahoo email remover setup and configure it on your Windows computer.

Start Yahoo email eraser software and choose Yahoo Mail as email source.

Enter Yahoo Mail account credentials and press Login button to start.

Now you can preview Yahoo Mail folders in the software interface.

Select required Yahoo email folders from software panel.

Select filter options to delete selected Yahoo email messages.

At last, press Delete button to start deleting thousands of Yahoo emails.
Yahoo Email Eraser Software Features
Delete all as well as selected Yahoo mail folders from software interface according to your choice.

Multiple email folders to delete old Yahoo emails by Date Range, Subject, Sender, Attachments, etc.

It is best software to delete thousands of emails from multiple Yahoo Mail accounts, therefore, users can save their valuable time.

The tool asks only Yahoo Mail login details i.e., Email Address or Password for deleting Yahoo mail folders.